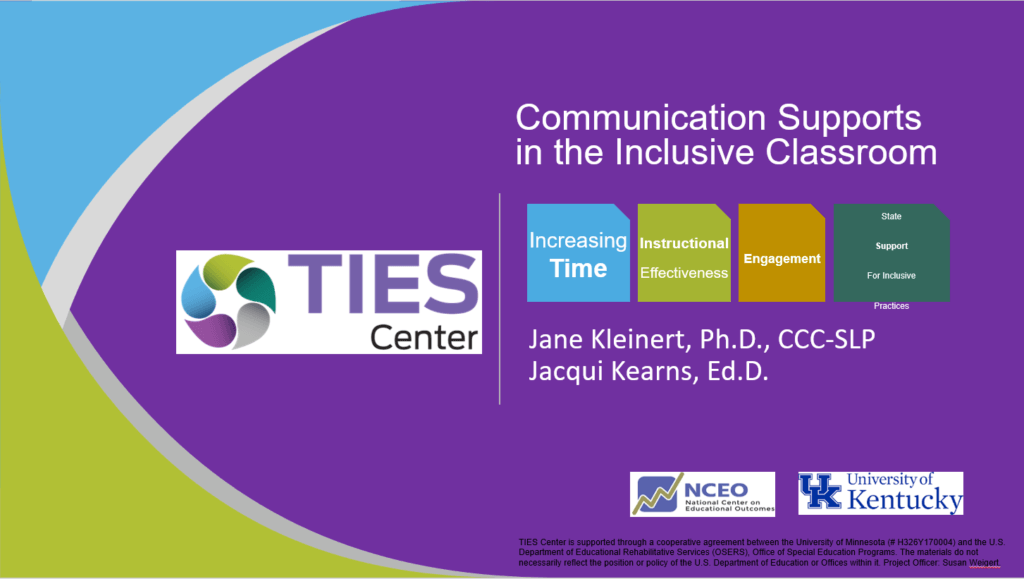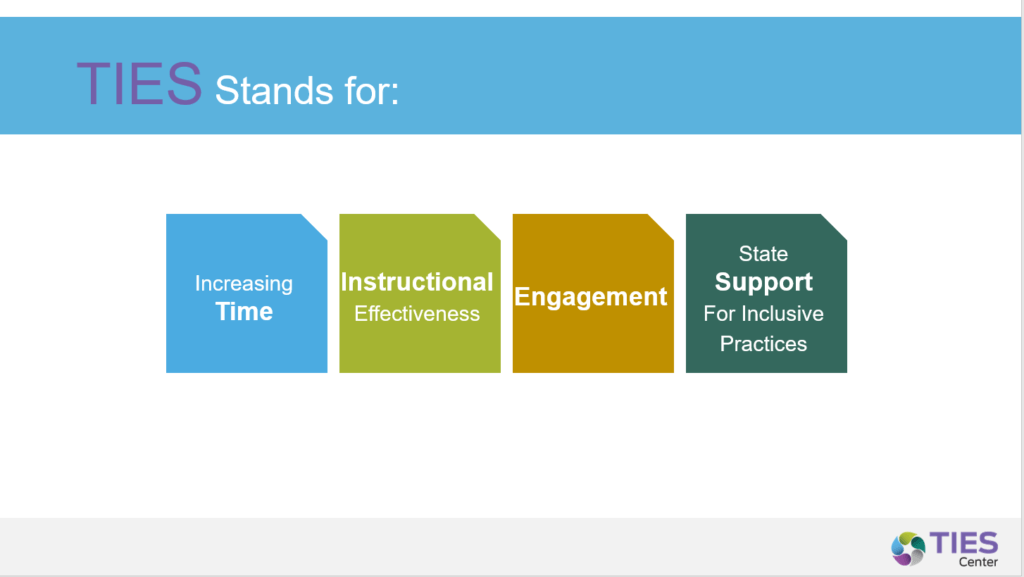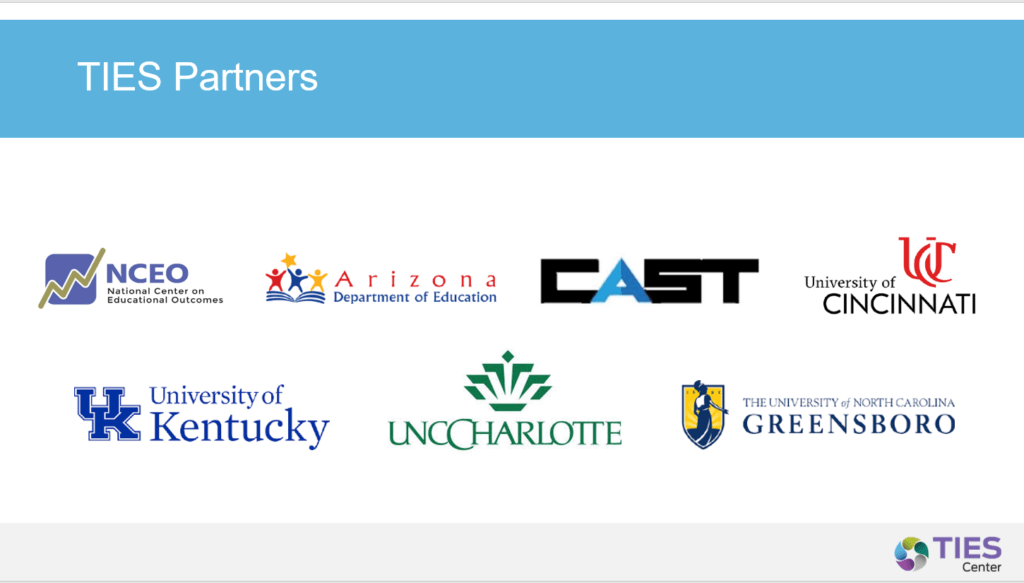 TIES Communication 101 Learning Series
TIES Communication 101 is an asynchronous professional learning series. A certificate for one hour of credit is available upon completion. One hour of ASHA credit is available for Speech-language pathologists at no charge for the six-part course.
This series includes TIP modules on communication-based on a review of the literature on Communication Competence in Inclusive Environments currently available https://files.tiescenter.org/files/g93yqc4Knm/ties-center-report-103
The findings of the literature review concluded that peer supports, aided language modeling, and training and planning for the teaching team were evidence-based practices that improved AAC use among students with complex communication needs.
The topics in this series include:
Peer Supports Communication – defines and describes the importance of peer support and the types of support arrangements that are helpful.
Collaborative Team Planning – provides strategies for effective and efficient planning and implementation of AAC.
Getting to know the AAC User – highlights the importance of knowing details about the student including unaided communication forms, preferences, hearing/vision/motor concerns as well as the use of AAC across school environments.
Successfully Using Communication Strategies in the Inclusive Classroom – highlights strategies that acknowledge communication, insure AAC availability, modeling, and teaching other how the individual communicates.
Connecting Core Words, Aided Language Modeling, and Literacy – provides examples connecting core vocabulary word arrays, aided language modeling, and connecting to literacy opportunities.
Defining Communicative Competence – describe the additional skills that AAC users must learn including operational and strategic skills in order to communicate effectively.
We hope the series will provide some useful tools and strategies to use with AAC users in inclusive classrooms.
All rights reserved. Any or all portions of this document may be reproduced without prior permission, provided the source is cited as:
TIES Center is the national technical assistance center on inclusive practices and policies. Its purpose is to create sustainable changes in kindergarten-grade 8 school and district educational systems so that students with significant cognitive disabilities can fully engage in the same instructional and non-instructional activities as their general education peers while being instructed in a way that meets individual learning needs. TIES Center is led by the National Center on Educational Outcomes (NCEO) at the Institute on Community Integration, University of Minnesota, and includes the following additional collaborating partners: Arizona Department of Education, CAST, University of Cincinnati, University of Kentucky, University of North Carolina – Charlotte, and University of North Carolina – Greensboro.
TIES Center is supported through a Cooperative Agreement (#H326Y170004) with the Research to Practice Division, Office of Special Education Programs, U.S. Department of Education. Opinions expressed do not necessarily reflect those of the U.S. Department of Education or Offices within it. Project Officer: Susan Weigert.
TIES Center University of Minnesota 215 Pattee Hall 150 Pillsbury Dr. SE Minneapolis, MN 55455 Phone: 612-626-1530 www.tiescenter.org
This document is available in alternate formats upon request. The University of Minnesota is an equal opportunity employer and educator. Click the first strategy below to get started.