This course is for high school personnel, special education and the Office of Vocational Rehabilitation Counselors. Credit is for EILA and CRC.
Credit is NOT available for early care and education providers
Course developed by KentuckyWorks, funded by the US Administration on Intellectual and Developmental Disabilities, Administration for Community Living.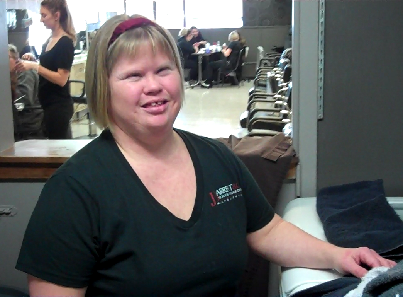 About this Course
? Check my Answer: these are activities to reflect on the question. Clicking Check my Answer will reveal the correct and incorrect answers.
? Audio: clicking the play button will play the recorded audio for the lesson or topic. The transcript for the audio is available under the player.
?Embedded Videos: Throughout the course there are videos from various YouTube channels. Many of these videos must be viewed in its entirety before moving on to the next topic.
?️ Legal: copied regulation or statute.
This course is divided into Lessons and Topics. Each topic must be completed in order to move to the next Lesson.
A graded quiz to check your understanding of the topic(s) covered. Quizzes are complete when 80% of the questions are answered correctly. You may take the Check Your Knowledge and Final Course quizzes multiple times until 80% is achieved.
Questions? Use the Contact Us button below.
Photo Credit: Photo Credit: Kentucky Employment Files, Kristi – J. Barrett's Hair School Nicholasville, KY
Course Funding
The development of this course was supported by a grant from the U.S. Administration on Disabilities, Administration on Community Living, (90DNEM0004-01-00), Project Officer: Larissa Crossen. The contents do not necessarily represent the policy of the U.S. Administration on Community Living, and no assumption of endorsement by the Federal government should be made.