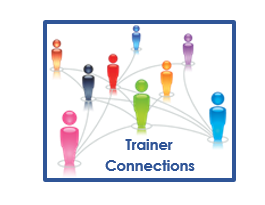 Welcome to Trainer Connections!
This online community is where we post all of our information about Trainer Connection events. Scroll down to view recordings and resources from past events.
---
Upcoming Events
How to Build YOUR Training Business while using Evaluations to Prove Transfer of Learning
Tuesday, July 26, 2pm EST / 1PM CST
Join us as we explore new ways to use evaluations to build your business relationships and ensure your trainings are making a real impact in Early Childhood Education. Evaluations are more than immediate feedback forms. They can be a way to connect to your learners and improve your professional partnerships.
Register now! https://bit.ly/3ubNMJN
---
Need help planning trainings?
Visit Child Care Aware to find your Training Coach
Looking for Trainer Documents, Policies, FAQs or Clarifications?
Visit the Child Care Aware Trainers Credential Page
Connect with us on Facebook
Join the Facebook group for Credentialed Trainers
Training Length Calculator
Use this tool to calculate how long each section of your trainings should be, and check your lengths.
Recordings & Resources