In order to plan family-driven activities, you need to include families in the process. The information you collect on this survey will serve as a guide as you implement Activities 2-3. The survey should involve at least ten families. The survey will gather information regarding Social Connections. You are welcome to survey the families you work with but note the more surveys you get back, the easier it will be to complete the remaining activities.
Please note that it may take a week or two to get the responses back.
What is the best way to have your families respond? You may find one of these methods works better for the families you serve or you may find that you utilize multiple methods.
Sending an e-mail with the questions and they reply with their responses?
Providing families with a paper survey to fill out?
Texting or e-mailing a link for a google form they can fill out?
Or 1:1 conversations in person or by phone where you fill out the form as you talk to caregivers?
The method that you use to collect information is not as important as how you will use the information to make informed family-driven decisions.
After you have collected information from your families, you will be asked to share what you have learned before moving on to the next activity.
Sometimes just providing a survey to a family is not enough for them to remember to complete it. Families are typically busy and may not realize the value of completing the survey. Most families, however, will complete if they know the value of completing.
As you are providing the survey take a moment to verbally or written share why you are collecting the information and how it will be used. Let them know you are completing training on ways that you can support them as a family and need their input. Provide as much detail about social connections as you think the family would be interested in knowing.
Also, giving the families reminders when they are not as distracted can remind families to complete at that moment.
Drop-off and pick-up can also be a great time to get surveys back. Ask families to come or stay an extra five minutes to complete and provide them access to the survey, either in paper form or electronically.
Family Survey Questions
What questions should be asked on the survey? Below are 5 short questions that can be used. You can copy the questions and put them in an e-mail or text, print the PDF below to share with families or use the Google form to create your own survey.
You may also use any survey that you already have, just make sure the questions are related to social connections.
Remember the method(s) used to collect the data is not as important as the fact that you are getting the information.
Do you have friends or family members you are close to?
Who do you specifically call on to help you every once in a while?
Who can you count on to advise you on issues related to the kids, finances or transportation?
Can you turn to your social network for help in times of need (for instance, when you need help with transportation, child care or other resources)?
What kinds of things do you like to do for fun or just to relax? Would you be interested in meeting some other parents who have similar interests?
Instructions for Copying the Google Form
Click the "Google form with questions" link above
Make a Copy of the Form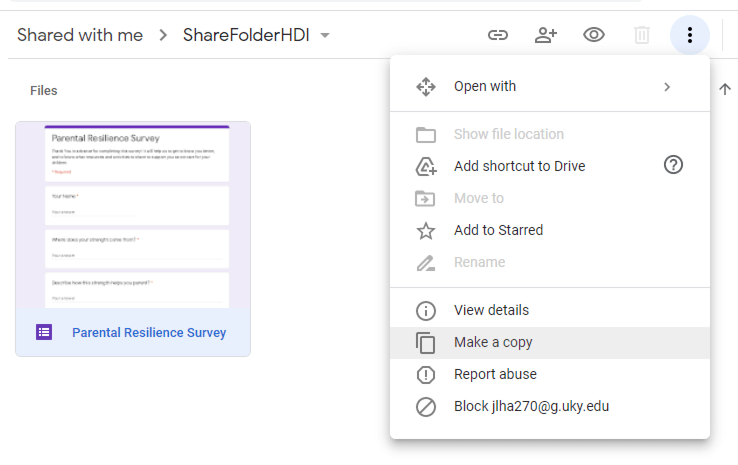 Open the Copy you made.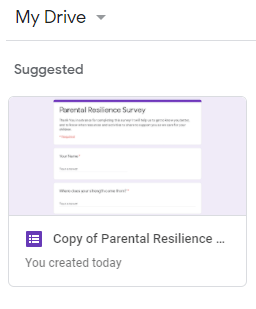 Click the Purple SEND Button
Send the form directly on the email tab by pasting in emails, or click the link icon and Shorten URL to create a short link to text, email, or share on social media with your class or center.